REAL ESTATE CLIENT ACQUISITION CAMPAIGN WITH OVER $35M SALES REVENUE
A highly promising new proptech startup has approached us with a substantial advertising budget in order to stand out in the Australian property market and attract property investors on a monthly basis.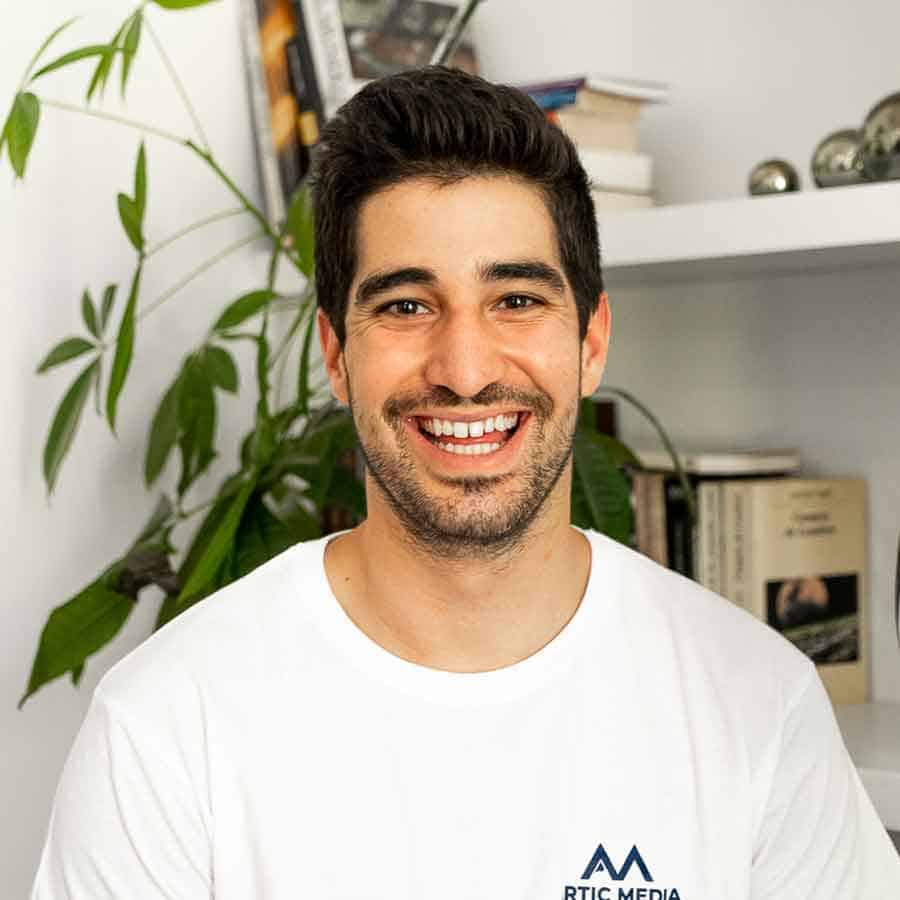 We started running meta ads campaign:
How our Real Estate marketing agency helped Property Investment Company in Australia go from 0 to +$30M sales
We would like to share with you a real story of how our team reach investors who want to get a property in Australia.
A property investment company approached us for marketing help because the wanted to attract investors willing to invest in properties in Australia.
They Help People Achieve Passive Income Through Property Investing Using Big Data.
You can enjoy the benefits of being a successful property investor without the time commitment, risk, education, experience, and headaches required to do it on your own.
Now let's look closer at each error separately and see how we fixed them and what results from it we've got
Developed a marketing strategy that took into account the strengths of the agency and helped to improve the weaknesses.
What is a conversion funnel?
A conversion funnel is a concept that identifies a step-by-step online interaction process. Within each stage, some digital marketing actions are taken to convert potential users or leads into customers.
A conversion funnel can be very different depending on the type of brand or company.
This means that, for example, the conversion funnel of a real estate company can be very different from that of a company that sells cell phones. This is because products have different choice characteristics such as brand, size, price, age, design, technology, among various variables.
For example, buying a house has a longer purchasing process than buying a cell phone, due to the risk involved in the investment.
We started by creating a lead generation funnel through ads on Meta and Google. The ads lead you to a landing page where you can book a free investment session with one of their experts.


The best campaign is about brand campaign.
The branding campaigns are characterized by bidding on the brand of the company we work for or represent, in order to generate direct conversions.
If we use branding campaigns, we will easily achieve this result, as the CTRs are high, the conversion rate is high, and the CPCs will gradually decrease.
*CTR: Clickthrough rate (CTR) measures how often people click your ad after it's shown to them, which can help you understand the effectiveness of your ad.
CTR is calculated by dividing the number of clicks your ad receives by the number of times your ad is shown. If you have 5 clicks and 1000 impressions, then your CTR is 0.5%.
*Conversion rate: shows how often, on average, an ad interaction leads to a conversion. It's "Conversions" divided by the interactions with your ad.
*CPCs: the amount you've paid for your ad divided by its total clicks. If your ad receives 2 clicks, one costing $0.20 and one costing $0.40, your average CPC for those clicks is $0.30.
Used high-conversion landing pages for advertising.
STEP Nº1: BUILD A NEW LANDING PAGE
Our creative team wrote, designed, and developed new customized landing page for ad campaign.
Use relevant and persuasive copywriting aligned with the consumer intent of each ad campaign.
Focus on the target audience, including the type of language they'd use and the details, problems, and solutions they care about.
Align landing page with ad campaign: one problem, one solution, one unique value proposition, and one goal.
Add trust signals such as testimonials, ratings, reviews, certifications, and case studies.
Optimize for mobile

to improve usability and bounce rates and thus ad quality scores.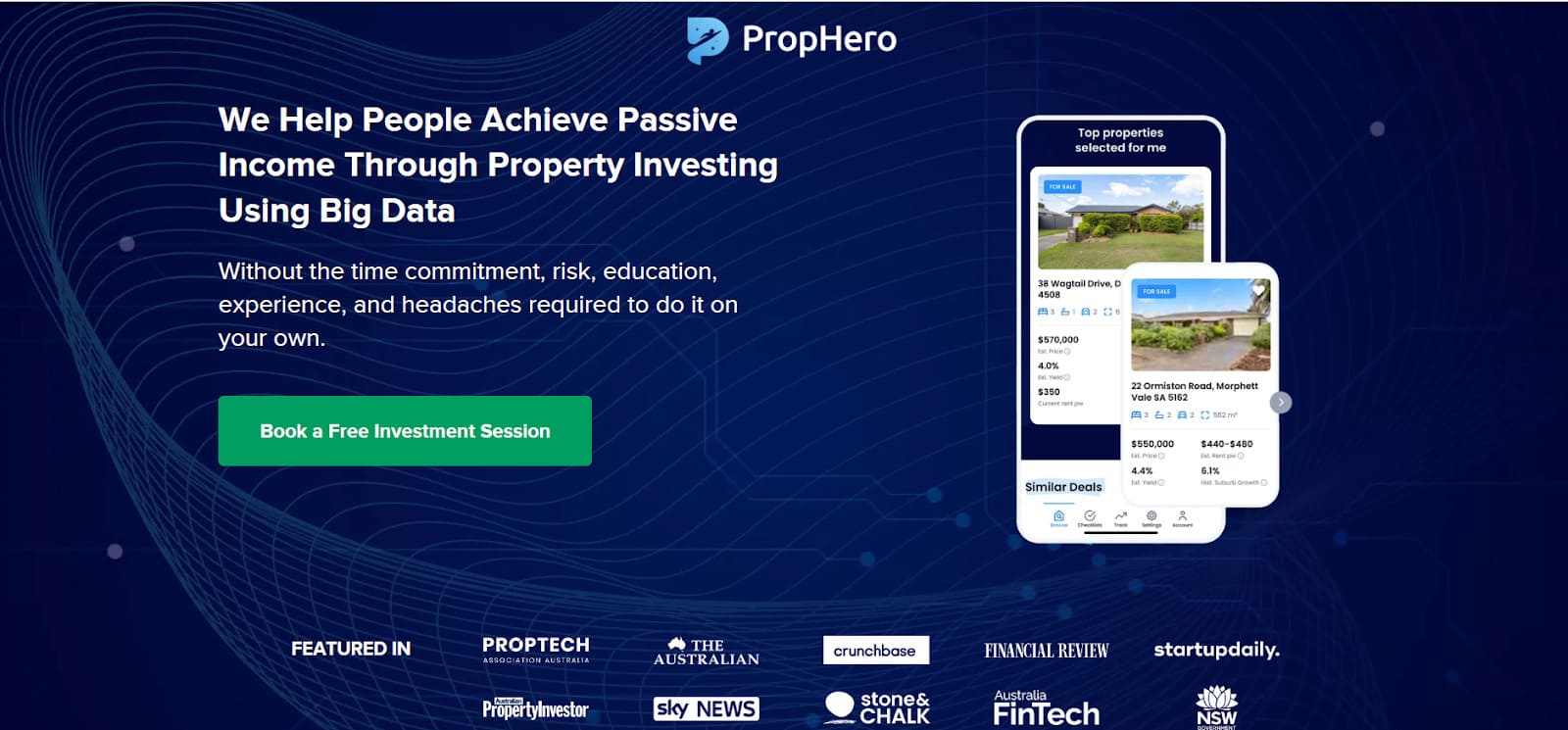 When you click on the CTA ("Book Your Free Investment Session") on the landing page, it takes you to an appointment landing apge to choose the best day to have a session with a member of our team.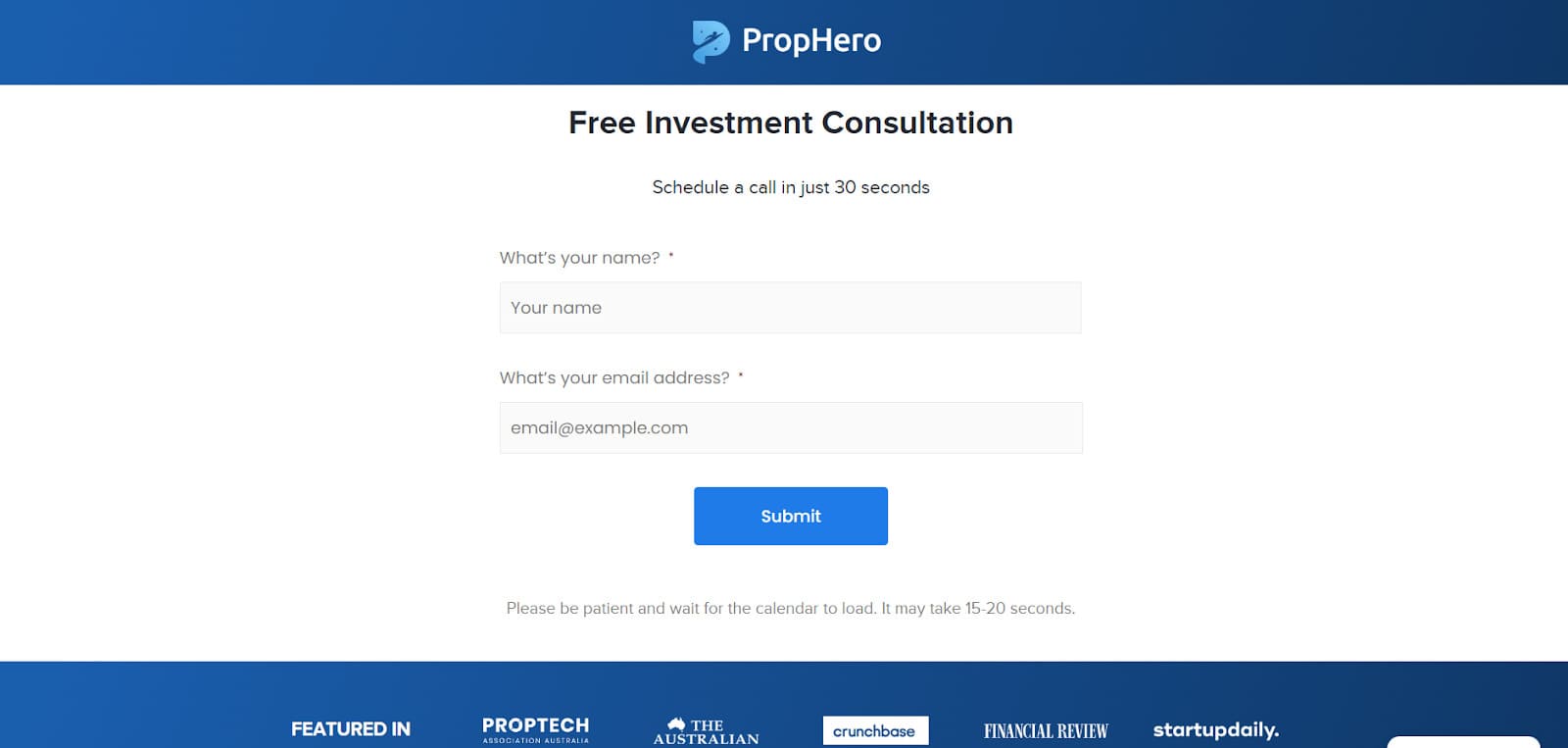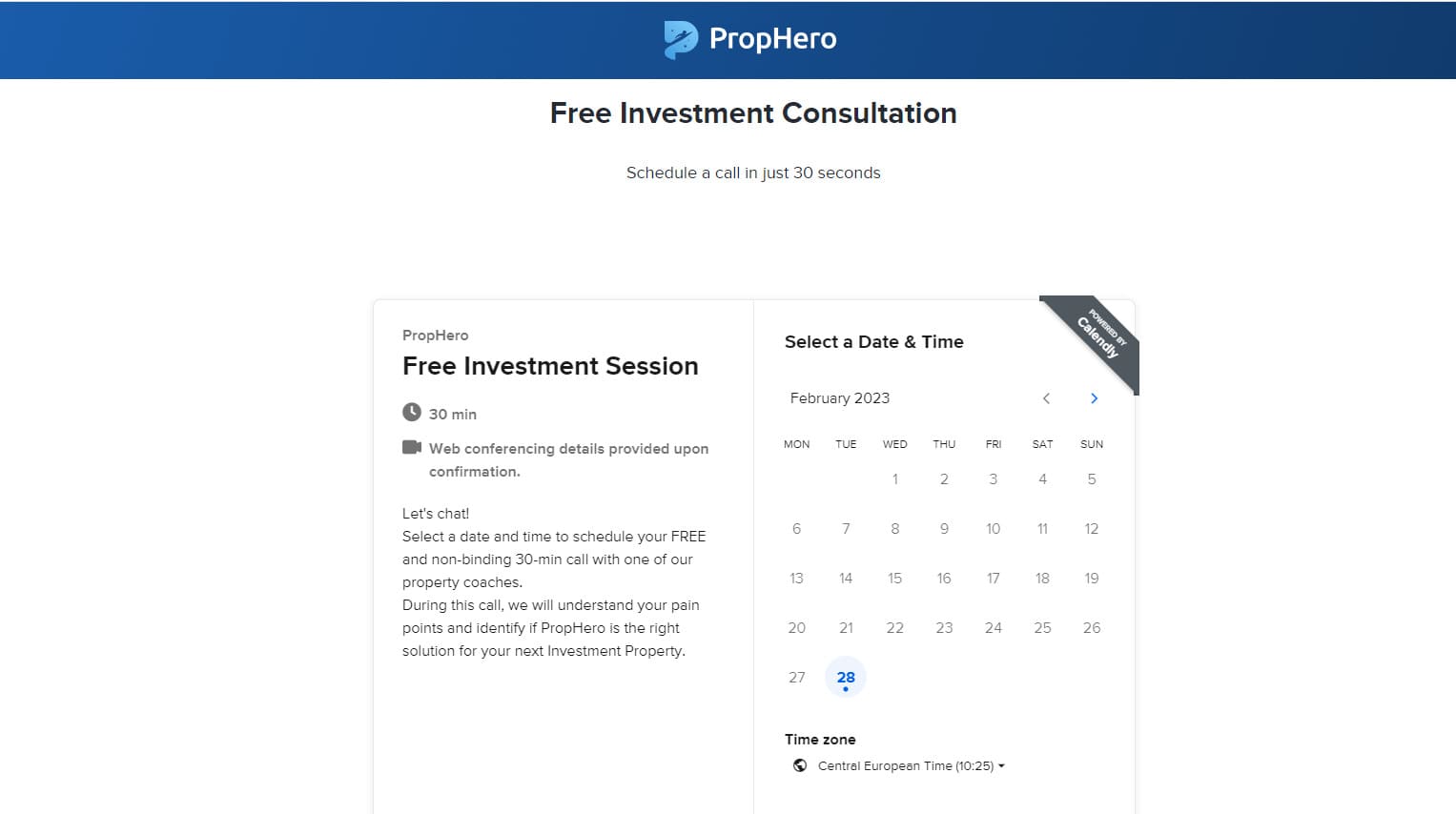 After completing all the steps, you will end up on a thank you page that helps us track all the behaviors within the funnel.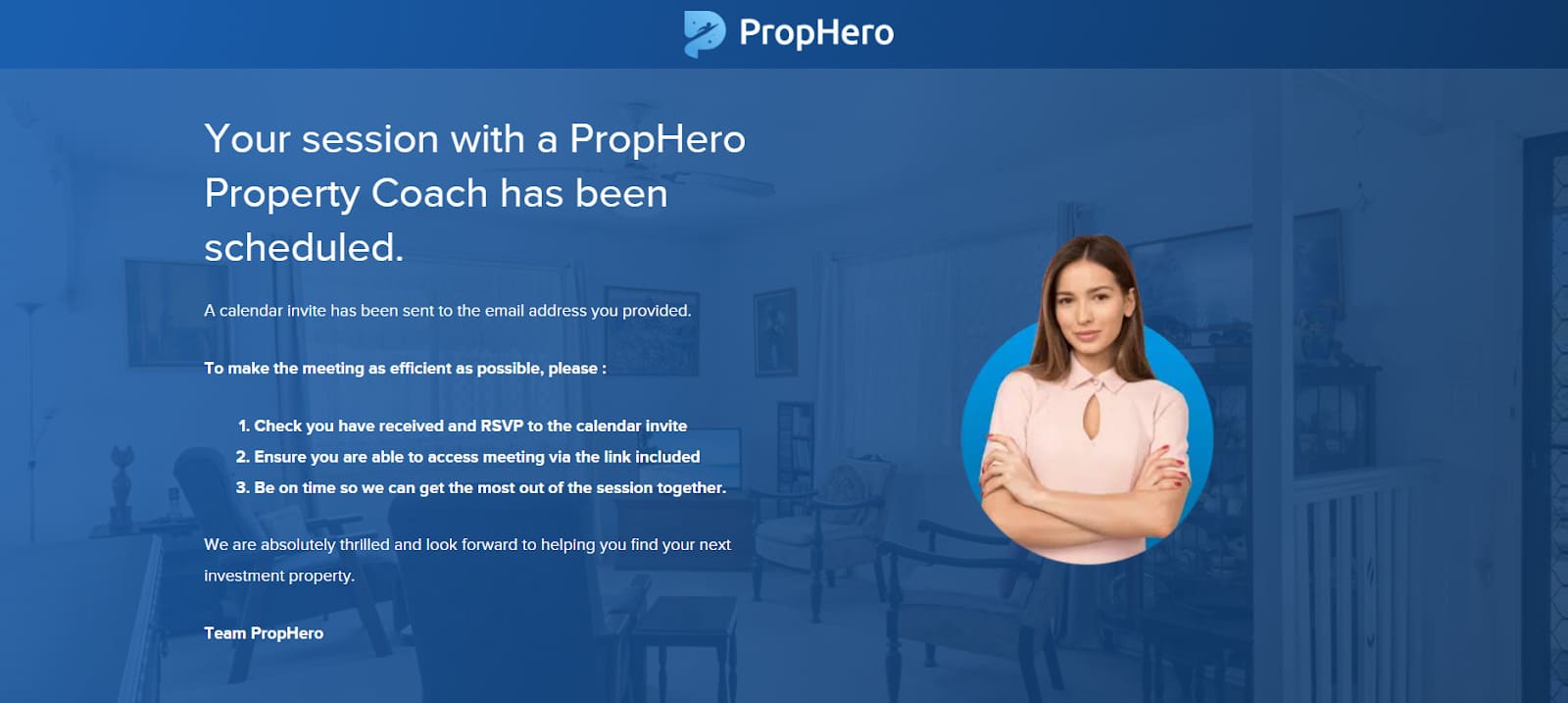 STEP Nº2: DECIDE ON AN ATTRACTIVE OFFER:
CTA: Book Your Free Investment Session
"A Successful Real Estate Portfolio Could Be Yours Sooner Than You Think! We can help you get your first (or next) investment property in 6 weeks
You can book a FREE 30-min call with one of property coaches and discuss your investment options
STEP Nº3: CREATE SOME CREATIVES AND COPIES.
Would you like to invest in a high-performing property without all the stress?
Let us take care of everything for your next property investment, including:

Property search

Purchase

Renovation

Rental management
Book a free property investment session and we will tell you more.
Long Copy with reviews from our clients: This kynd of copies are good
The problem exists for many of us.
Where do you find high-return and low-risk investment properties hassle-free.?
This is where we can help…Our mission is to connect property investors to the best opportunities in Australia. We help individuals to find, buy and manage high-return and low-risk investment properties hassle-free.
On average, properties purchased through us have outperformed the national average suburb growth by 170%
Here's an example of what we've found for our client, Arthur:
• Price paid $367K
• Suburb growth: 3.9%
• Weekly rent: $400
• Rental yield: 5.7%
• Vacancy rate: 0.6%
With comparable properties being sold for almost $400K at the moment, Arthur and his family have accumulated almost $45,000 in equity and rental returns in just over 6 months!
You too can be on this journey to create financial independence with us – To see if you qualify, book your FREE investment session today.
We would like to remind you how important the separation into different audiences is for advertising.
This is where we begin to implement the advertising strategy.
We develop several campaigns aimed at the Australian public and testing which audiences are the ones that work best.
Prospecting - Cold traffic:
People who have not heard of or interacted with you before. When these people click on your ads it is not because they have heard of your brand, it is simply because they are intrigued by what you are promoting.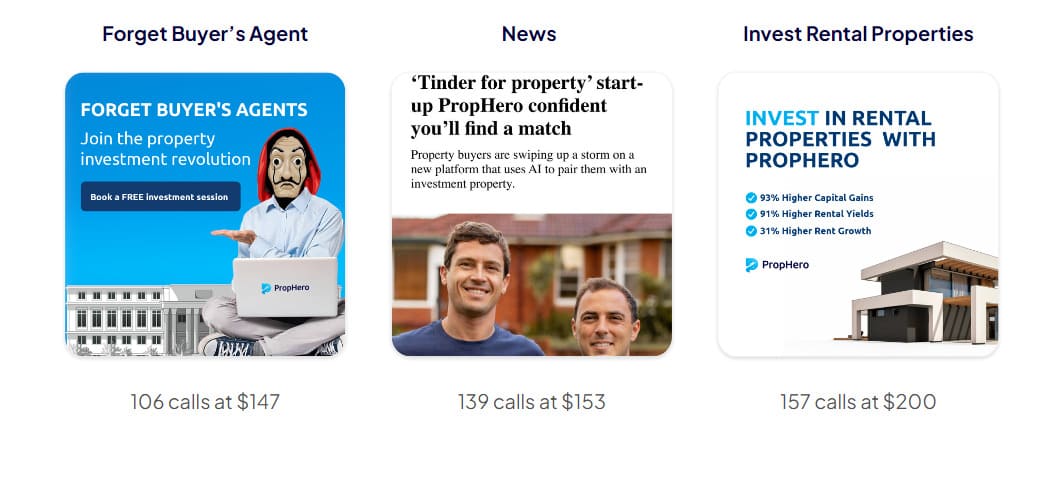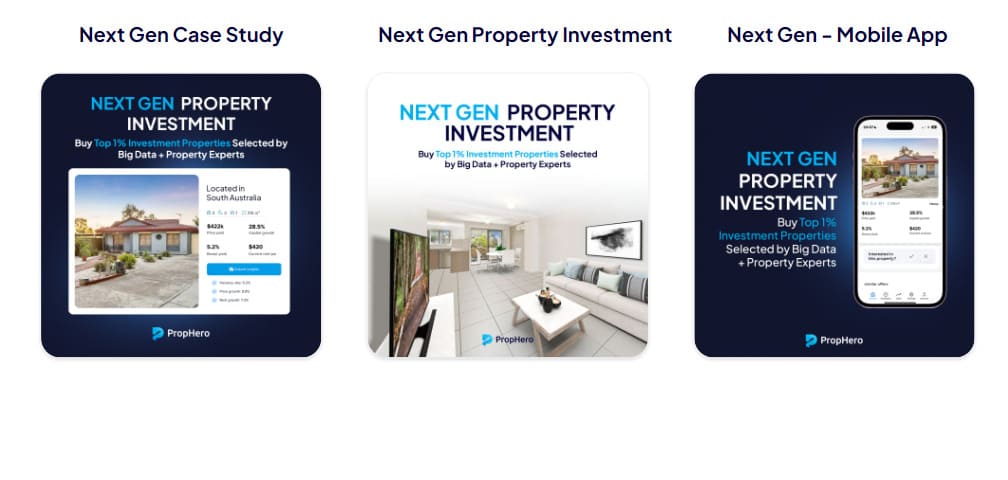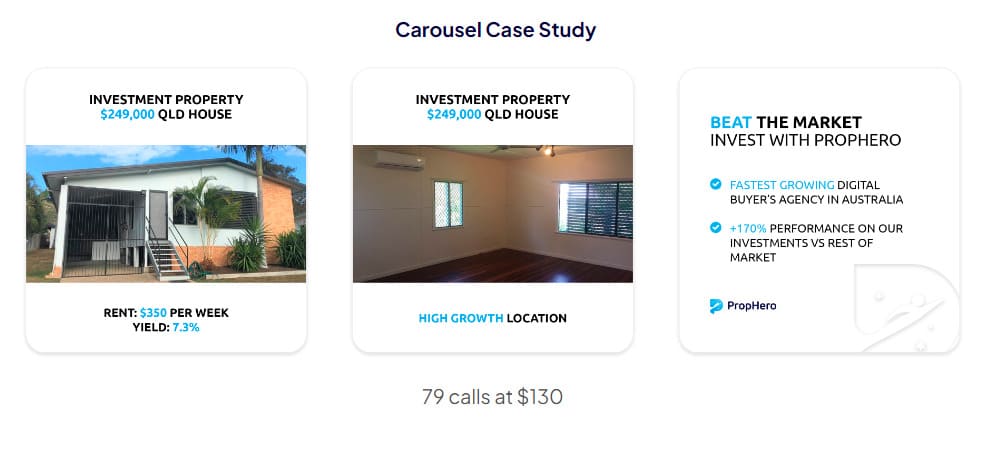 We start retargeting ads after a few days. Retargeting ads allow your business to show targeted ads to the users who visited your website and didn't complete a conversion – in this case, fill in a contact form to make an appointment. We start retargeting ads after a few days. We remind people who have already seen us in other ads to book a call through images and videos.
STEP Nº4: META ADS CAMPAIGN STRUCTURE
We targeted people living in whole Australia between ages of 25 and 65 and then we created an interests testing campaign to test several audiences and choose the best performance ones. The objective is to collect as much conversion data as possible within a single campaign so the algorithm can "learn" how to improve performance.
Prospecting campaigns can be described as large campaigns leveraging substantial data sets as well as customer intent or content consumption.
For the first time, we chose ABO Campaign because when starting a new advertising account, there may not be enough information for the algorithm to make informed decisions about the pixel.
When we test audiences, we use the same ad creative for each audience. (Two-three creatives per adset.)
Investor
Property
Finance
Investment
Entrepreneurship
Interest Testing Campaign

Once Meta has enough data and we know which audiences are working, we move on to creating CBO campaigns with the best audiences: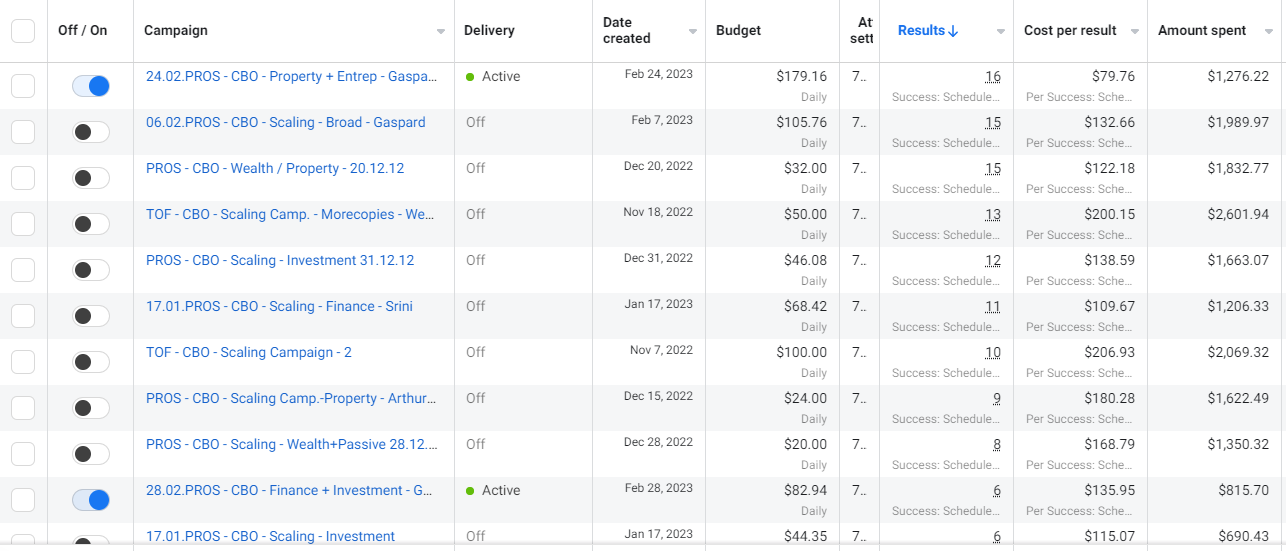 Web Visitors
Social Media Engagers
We used enhanced bids to improve efforts across campaigns and gain better algorithmic insight into which audiences would work best.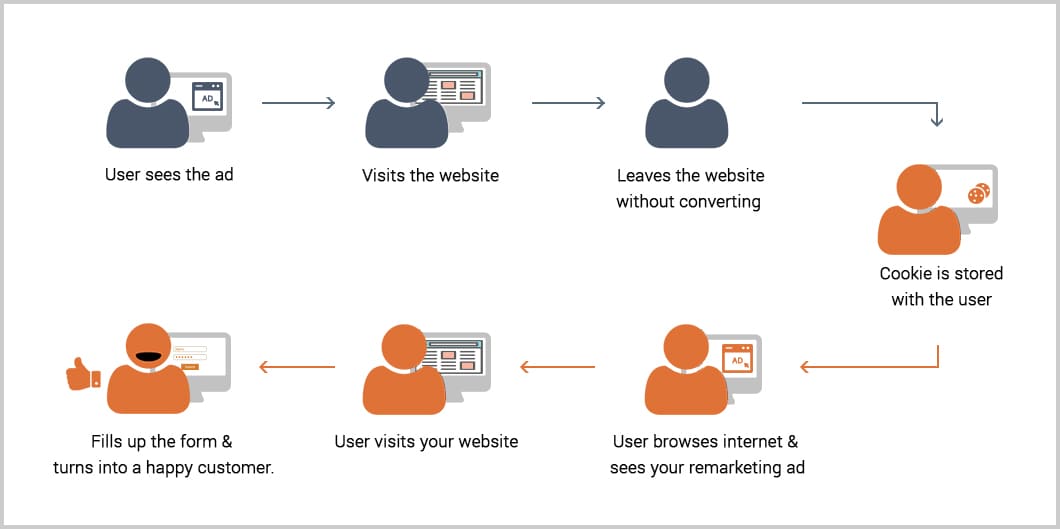 Retargeting Campaign Results:

The Best Performance Ads:

All our work in the proptech marketing and sales strategy has yielded results:
Brought the company to 37 leads per month and $1.2M profit with a commission of 3%
Requests from ads with a cost below $180.
Created and implemented a marketing strategy that suited the agency and from the first weeks of work began to bring results
We approached all Australia advertising, which made it possible to competently manage customer segments and form the right offer.
We created a landing page and one calendar to make an appointment.
Introduced CRM system. Thanks to her, agents were able to process more requests per unit of time. And the business owner could quickly control all this.
Final result: Property transaction revenue increased by $5.3M per month
Also, the number of high-quality applications increased by 450%.
If you want the same cool results, you can apply the knowledge from this case study.
Or you can write to us and save your time and money. After all, we have already found what works and brings sales.